As inaugural poet for President Obama and the first-ever Education Ambassador for the Academy of American poets, Richard Blanco is passionately dedicated to inspiring students through the close reading and writing of poems, and equally committed to empowering educators who wish to enhance their poetry and language arts curriculum with a focus on diversity and inclusion.
Engaging students with poetry and exploring its full life-enriching value can be a real challenge. Indeed, educators face an uphill battle—fear of poetry is pervasive enough to have merited its own word: metrophobia! As an antidote to that phobia and to revitalize poetry's role in the classroom, Richard welcomes the opportunity to engage school communities and share innovative approaches to teaching the power of poetry.
The scope, schedule, and content of the following offerings can be customized to meet the particular needs and preferred focus of your school, from a one-day visit to a multiday Poet-in-Residence program.
For more information and to arrange a visit, please contact Richard's agent, Anya Backland at alison@blueflowerarts.com and 845-677-8559 and/or visit the Blue Flower Arts website.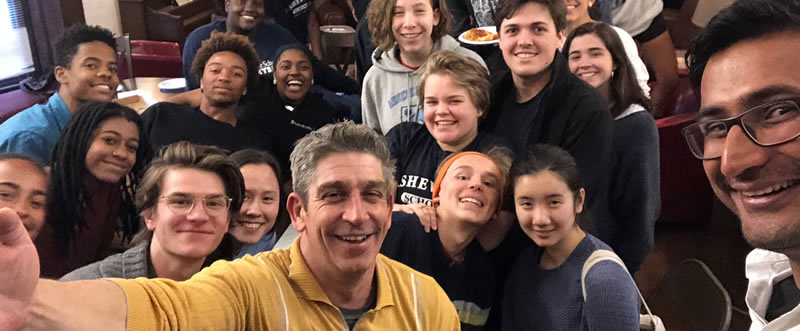 Student Poetry Workshops and Craft Talks
Through interactive lectures and discussions, students study craft-based poetry writing techniques, including: the use of sensory-based details, construction of the poetic line, effective figurative language, and the musicality of words. Readings and writing exercises offer students the chance to practice these techniques and engage their creativity, learning to become not only better writers, but also better readers of poetry, and discovering its life-affirming power, especially with respect to matters of diversity, inclusion, and intersectionality.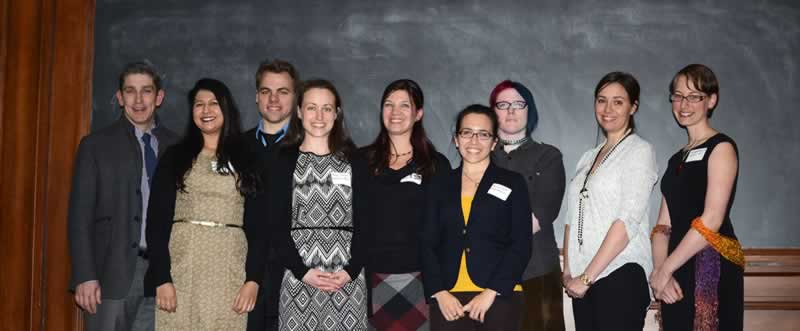 Teach This Poem™ Poetry Workshops
Teachers explore the aesthetic education principles of John Dewey in relation to the Teach This Poem™ resources from the Academy of American Poets, which approach poetry as an experience that involves deep noticing, wonder, and discovery. These exciting methods for teaching (and learning) poetry incorporate various artistic mediums, including visual arts, music, and film. By applying these methods, teachers develop and share their own Teach This Poem™ activity in an informal workshop setting.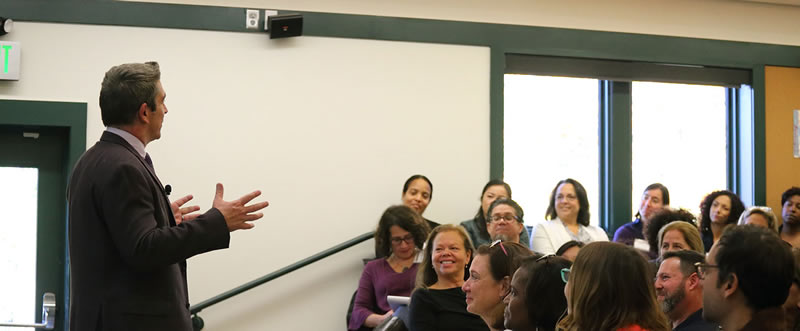 Coffeehouse Poetry Reading
A gathering for students to share the poems they've written in workshop with classmates and faculty, coupled with guidance on effective recitation and a general discussion of poetry's roots in oral tradition.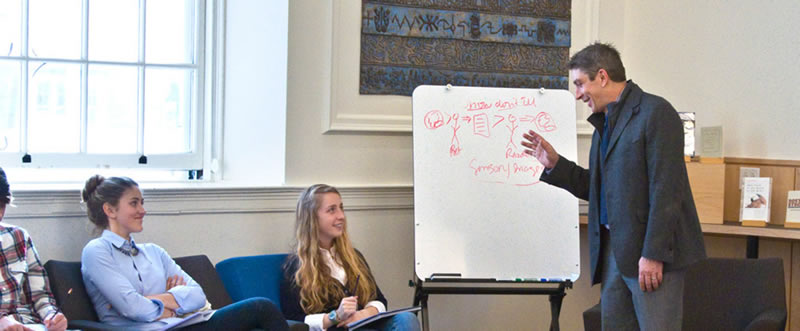 Poetry Reading and Conversation
Richard's diverse perspectives, as a poet, civil engineer, memoirist, professor, and gay Latino, encourage school-wide dialogue on a wide range of the subjects and issues of our day, including cultural identity and diversity, immigration, sexuality, and the importance of creativity and writing in all disciplines. A vibrant, multidimensional speaker, Richard combines the power of his poems and stories with his wit and wisdom to excite students about poetry and their shared humanity.
"May poets, teachers, and readers heed Blanco's call for more poetry in our nation's classrooms and for poetry's greater presence on the American cultural landscape.
– Jennifer Benka, Executive Director, American Academy of Poets
"As an immigrant student who struggled to find my place in this strange country, I felt like Mr. Blanco was telling my story… I am so extremely grateful for his visit, and he inspired me to be brave and share my story. He made us realize the power of poems…
– David (MingYuan) Zheng (Student, Asheville School)
"…[N]ot only did Mr. Blanco fly in to be our keynote speaker, but he came days ahead of time giving of himself and making poetry accessible to our entire community. He…stayed following his talk for every last community member who hoped to connect with him. After his visit, student after student thanked me for bringing him. Concurrently, many of us on the faculty agreed that Mr. Blanco's visit is one of the handful of experiences every generation of our students need.
– Varghese Alexander (Director of Community Pluralism, Math Teacher, and Assistant Dean of Faculty, Asheville School)
"Varghese Alexander (Director of Community Pluralism, Math Teacher, and Assistant Dean of Faculty, Asheville School)
– Jeff Schwartz (English Teacher, Greenwich Academy)
"Richard Blanco reached out to students all week as a classroom teacher and challenged them to write from their hearts and experience. He then performed a once-in-a-lifetime presentation… It was emotionally moving, inspirational, personal, and funny.
– Mary Anker (Former Director, Berwick Academy)
"More than a keynote speaker, Richard entranced the room of conference attendees, setting the tone for meaningful, hopeful conversations and courageous student reflections later in the day. Cheered by his humor, and stirred by his story, we could not have asked for a more authentic or evocative voice to inspire us to lift our own voices. As we continue to think about inclusion at Far Brook, we will draw upon Richard's message of hope…
– Mikki Murphy (Director of Diversity, Equity, and Community, Far Brook School)
"… Richard Blanco taught a couple of classes, ran a teaching workshop for the English faculty, and wowed the entire community with a spellbinding presentation… The passion for poetry has been growing on our campus…and Richard helped take it to an entirely new level. Richard's warmth, creativity, and enthusiasm made his visit an enthralling experience for everyone. The buzz about Richard's visit continues to permeate our community…
– Joshua Stone (English Department Chair, Ransom Everglades School)
"Richard's work with the community college students who attended our 2018 national conference…was invaluable. His love of language and willingness to reveal his most important truths through his poetry encouraged them to use the power of their own voices. His graciousness, generosity and humanity inspired everyone at the conference…
– Lynn Reddy (Director of Communications and Media Relations, Achieving the Dream)
"… Far Brook School had the honor of welcoming Richard Blanco to speak at our annual diversity conference… For the entire day we were captivated, not only by Richard's words…but by his presence and warmth of personality. Meeting Richard Blanco and being welcomed into his narrative, albeit for a small moment, was a transformational and soul-feeding experience—one that I, and my students, will surely never forget.
– Roberto Olazagasti (Fifth-Eighth Grade Math Teacher & Junior High Art Teacher, Far Brook School)