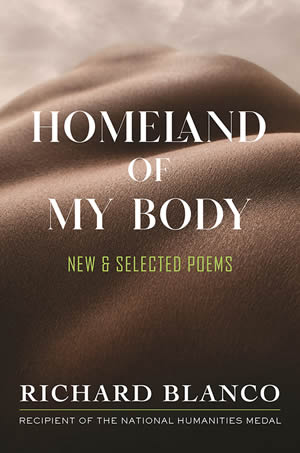 A rich, accomplished, intensely intimate collection with two full sections of new poems bookending Blanco's selections from his five previous volumes
"An engineer, poet, Cuban American…his poetry bridges cultures and languages—a mosaic of our past, our present, and our future—reflecting a nation that is hectic, colorful, and still becoming."—President Joe Biden, conferring the National Humanities Medal on Richard Blanco, 2023
In this collection of over 100 poems, Richard Blanco has carefully selected poems from his previous books that represent his evolution as a writer grappling with his identity, working to find and define "home," and bookended them with new poems that address those issues from a fresh, more mature perspective, allowing him to approach surrendering the pain and urgency of his past explorations. Pausing at this pivotal moment in mid-career, Blanco reexamines his life-long quest to find  his proverbial home  and all that it encompasses: love, family, identity and ultimately art itself. In the closing section of the volume, he has come to understand and internalize the idea that "home" is not one place, not one thing, and lives both inside him and inside his art.
The poems range in form, voice, and setting, showcasing his command of craft, but in essence they are one continuous reflection on the existential question at the core of all of Blanco's poetry: how can we find our place in the world.  All are characterized by his keen eye, deep sensibility, and polished craft, without pretense.   This volume is a gift to Blanco's many readers but even more to those who have yet to discover that they can understand, and fall in love with poetry, that a poet can speak to them about his own and their own lives so profoundly, and that this poet, as Barack Obama discovered, can speak for all of us.
Richard Blanco has been justly celebrated for his poetic gifts and his command of the many forms poetry can take, from the finely structured to the prose poem formats. His previous volumes have been praised by Patricia Smith, Eileen Myles, Sandra Cisneros, Elizabeth Alexander, and many others.  His poems have appeared in The New Yorker, The Atlantic, and dozens of other publications.
Why I Needed To
because I faithfully reply to every email from the absurd
gods of urgency who punish my good deeds by leaving me
empty when I empty my inbox . . . because I praise hating
myself, broken into my calendar's time-slotted tasks, slicing
me thin with the thick duty of being everything yet nothing
to anyone, not even to me . . . because I remember birthdays
but forget my own and my mother's . . . because she is bitter
sweet as the Cuban coffee she brews after Sunday dinners . . .
because she only loves me in the language of her cooking
my favorite dish: carne con papas . . . because of my bland
father sunk in his armchair without me on his lap . . . because
he never told me the life story I only read finally in the half
moons of his eyes the morning he gazed into mine then
died . . . because my brother and I need to drink to share
our shared hurt at happy hour, so unhappily grateful for
love's wreckage . . . because my husband, who's still scared
of his adoration for me as we embrace sleep, still doubts
how long I'll nest my dreams in his arms . . . because I have
never quite told him: always . . . because I'm just as afraid of
needing him more than myself . . . because I'm not the one
I've curated on Instagram: oh so humbled by, so grateful for . . .
so many posted blessings with my posed selves . . . because
tonight I again remember I'm nothing more than a mirage
slowly disappearing on my porch, sitting with half the life
I have left, still trying to piece how I fit into the puzzle of
the constellations . . . because I've drunk their shots of light
and too many martinis . . . because I'm cheering mindlessly
to the moon, to my wish for immortality amid the clouds
of my own cigarette smoke . . . because I should finally quit
doubting my life will be more than these anonymous bones
. . . because I need to believe in something else, truer than
me . . . because that's why today I had to take myself away
to the beach . . . because I needed to imagine my father as
that father at the shore, handing a bouquet of seashells to
his son . . . because I needed to taste that love can be simple
as a mother remembering to pack sodas and sandwiches . . .
because I needed the seagulls tending the horizon to teach
me again to be as still as them, peer calmly into the void
of the skies I face . . . because I needed to hear the waves
break and break me into the lines of this poem . . . because
I needed to burn, to see myself shine just as beautifully
as the rosy glow of the sunlight bathing my closed eyes.
published in The Atlantic, September 2022
Upon a Time: Surfside, Miami
Once and once again I am as I remember
myself. Thirty years later, I can still savor
the sway of these palms fanning this same
wind into syllables whispering good morning
in my eyes, saving these todays when I can
no longer hear how to live out this passion
for breaking myself into poems like this, like
these waves that once upon a time are again
my loyal loves still kissing my feet as I stroll
this shore and glance back at my footprints
again washed away. The salty salve of these
breezes I breathe, living once again with all
my joyous regrets for all I've done right or
wrong, for all I am now, that is enough yet
not enough, for who I wanted to be once,
still searching this sea, still facing this same
mute horizon, I ask again: Who am I? What
should I do? The answer, as always: Everything.
published in Poetry magazine, September 2023
"What a gift, this new gathering of poems from the singular Richard Blanco. A cause for rejoicing!"
– Krista Tippett, author of Being Wise and host of On Being
"What I love about Blanco's work is the lustiness of the poems; they have bodies, there's such sensuality to the language, such flexibility to the line; and they display such delight in form, an unapologetic love for the world. He has become a poet who sings for all of us with the inclusivity and passion of a Whitman and the particularity and absorption in the quotidian of a William Carlos Williams, the street smarts of a Langston Hughes, the oratorical grandness of an MLK."
– Julia Alvarez
"Richard Blanco's Homeland of My Body is a triumphant anthem to a rich life in all its ages and awakenings. 'What should I do? / Everything.' These stunning new poems, astonishing in their generosity, cradle so many long-loved ones, that a full, new world is created—not broken into parts at all, but wholly realized, and utterly moving."
– Naomi Shihab Nye
"Blanco's poems are journeys to a homeland within the heart, a welcome homecoming earned from a lifetime's wise voyaging."
– Sandra Cisneros