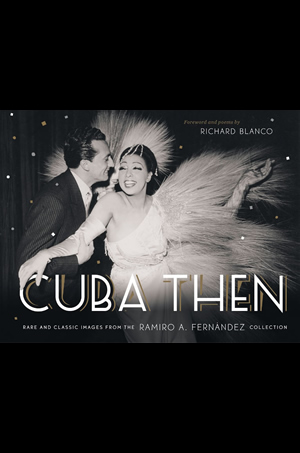 Vintage photos from one of the largest archives of Cuban photography in the world capture the island's history.
The enduring fascination of Cuba intensifies as the island once again becomes a seductive travel destination. From Ramiro Fernández, whose collection of Cuban photography and ephemera is one of the largest outside of the island nation, comes a dazzling array of images of Cuban life, lifestyle, glamour, customs, and struggle from the nineteenth century to the Revolution.
From the earliest daguerreotypes to glamorous shots of movie stars, the country's history is represented by a rich spectrum of personalities: race-car driving aristocrats, sultry showgirls, gangsters, everyday folk, and revolutionaries who would soon transform the nation. Rare images are showcased: a portrait of Castro as a schoolboy, a bare-chested Che Guevara, and Heinz Lüning, the only Nazi spy executed in Latin America during World War II (and the unwitting inspiration for Graham Greene's Our Man in Havana).
With nearly 300 exceptional images and a foreword and poetry by Richard Blanco, the poet selected for President Obama's second inauguration, this is a multifaceted look at Cuba, then.
"Vintage images of the island of Cuba have a great deal of charm, and that's on full display in Cuba Then. In the new book, an airplane from Cubana de Aviación floats in the clouds on a double-page spread, looking somehow surreal, while a group of revellers gathers at Sloppy Joe's Bar in Havana in 1930, clowning with oversize bottles of liquor, and performer Rosita Fornés, plump in a polka dotted dress, poses for a kitsch publicity still in which she appears to have tripped and fallen.
– WWD
"The Cuba left behind is illustrated exquisitely in Cuba, Then. The fascinating book has 250 images, most never before published as well as poetry by Cuban American Richard Blanco, who spoke and read so movingly at President Obama's second inauguration. Fernandez's photographs capture all: young Fidel at a 40 mm anti-aircraft gun; a shirtless Che Guevara; 'Queen' Celia Cruz on a break; and prima ballerina Alicia Alonso en pointe in a photo from her tutu'd torso down.
– Examiner.com